Armos Ensemble in Concert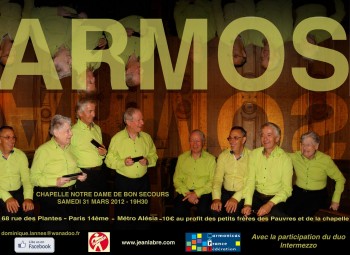 Armos ensemble have been highlighting the qualities of the chromatic harmonica since 2004, with a particulary rich repertory from classic music to jazz and variety show, and compositions of their leader, Pierre Rochat (chromatic and violonist player). The other players with him are Gerard Margnoux, Dominique Lannes (chromatic), and Jean Pierre Auger (guitar).

As indicated in our "Calendar" page (The News page), their next concert will take place in Notre Dame du Bon secours Chapel (Paris 75014), on the 31th of March, 7:30pm, with an invitation in a final orchestral participation for the last piece: "Tous Ensemble" (composer Pierre Rochat).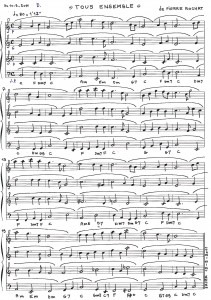 If you are interested, you just have to choose one voice out of the 4 proposed on this music sheet.
Featuring guests: Duo Intermezzo (Regine and Jeff Laurion) & Jean Labre.
Information:
P.S.: Do not forget to bring your Harmonica!!!
Published February 8th 2012