Tokyo, April 2008, Harmonica Rendez-vous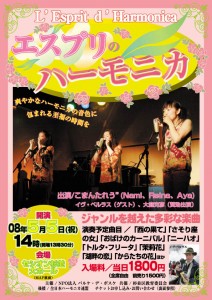 April is a traditional cultural month in Japan, "Sakura" (cherry trees) celebration and the "Golden Week" included. This month offers also every year several harmonica concerts.

The program this year in Tokyo is :

- Tuesday April 22nd : an evening jazz session in the Nakano "Drum Club", with the singer Satsuki Ito and Jean Labre.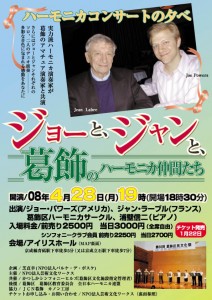 - Saturday 26th : Ladies'concert in the Yakuruto Hall in memorie of Hidero Sato, featuring : Mitsue Kusunoki and Hiromi Terasawa.
Sunday 27th : AJHF ("All Japan Harmonica Federation") Convention with an evening concert, guest Jean Labre.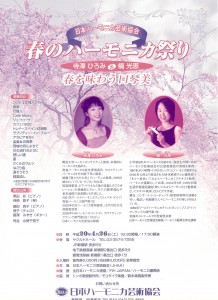 - Monday 28th : International Concert at the Katsushika Symphonie Hills, featuring Joe Powers (USA) and Jean Labre.

- Monday May 5th : Ladies'concert at the Session Suginami Hall, featuring : "Comment Allez-vous" Trio (Nami Miyata, Reina Oba, Aya Kurada).

For more information, click on our calendar page.
Published March 28th 2008