A Star is born...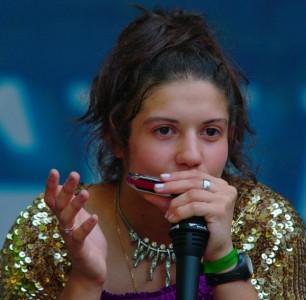 Her name is Rachelle Plas... She might be coming from another planet. I discovered this young diatonic prodigy during the concert "Harmonicas de France" (France Harmonica) on May 21st.
Rachelle Plas quartet "put the stage on fire" in the second part of this concert. Rachelle is nearly 19 and she already displays an impressive mastery of the diatonic (she is Greg Zlap's student). "She's got everything", Alexandre Thollon told me after the concert which revealed also a talented jazz singer ; her voice, sometimes sweet, sometimes powerful strikes by its amazing ability to give rise to emotion.
Parenthesis, she is vice world champion in judo! I see there a link with her behaviour in life : well in her head, a constant gesture control obvious as soon as she appears on stage, behaviour probably due to the practice of "katas" black belts in judo (succession of codified fighting movements, very technical).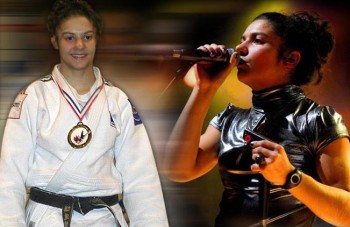 Her quartet includes talented musicians : Julien Joubert on guitar, Gilles Saunnois on bass and Xavier Hamon on drums. As for Rachelle, she is also a composer... inspired.
She told us during a recent interview: " I've obtained my studies top level S (baccalaureat) last year (at 17!). Then I started a degree in English because it's always useful to be bilingual... Now my true career ambition is to work in music."
Add to this that the French Federation of Judo has requested her, for the upcoming World Championships, to make the choice : music or judo!
And she made it : she has pluck this young girl, she knows what she wants.
During 60 years of wandering in the harmonica world, I never met such a phenomenon.

Contacts : http://www.myspace.com/rachelleplas to better discover & contact management :
Photos: Virginie Leroux, Patrick Thierry, Alljudo
Published May 30th 2011