Harmonica Trio in the Pocket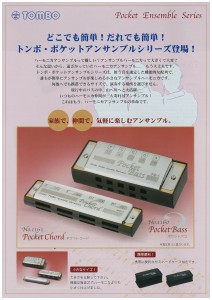 Tombo Musical Instrument company has introduced into the market two small instruments named "Pocket Ensemble" (n° 1160 and 1161), invented by Juko Saito* and intended to be used by harmonica ensembles. These instruments have been rapidly adopted in Japan by the A.J.H.F.* Federation, and the primary schools have already introduced this small trio instrument in their music classes.

The model 1160 is a small bass, " Pocket Bass " ; its dimensions are : lengh 143 mm, width 57 mm, heigh 44 mm. This bass contains only 10 notes : F, C, G, D, A in his upper part and D, A, E, B, F# in the lower part. Its sound is interesting, it reminds me of the old Hohner bass sound (called " black bass " in France).

The model 1161, " Pocket Chord ", is surprising because of its small dimensions compared to the other standard chord models. Its dimensions are : length 145mm, width 35 mm, height 25 mm. The " Pocket Chord " contains 8 fundamental chords : F, C, G7, D7 in the upper part and D minor, A minor, E7, B7 in the lower part. This chords permit to play easy accompaniments like the " anatole " : C, A minor, D minor, G7, C. And many other chords combinated with the bass, in the F key. Juko Saito has very explained these chord combinations in a book containing 50 arrangements written by him.
The result of this accompaniment formula makes me think of the sound obtained by the Hohner " polyphonia 7 " (3 branches).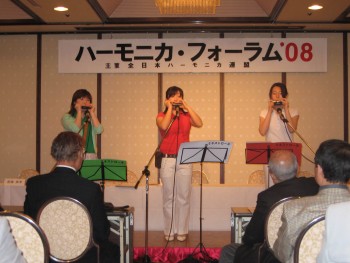 I was present last month at the A.J.H.F convention concert during which I discovered the surprising "Pocket Ensemble Trio". I think that this formula is going to be interesting for every one, from young to retired people ! Hoping that they will be soon sold in France at a not too expensive price. In Japan, their prices are : 70 euros for the pocket bass and 68 euros for the pocket chord.

For more information contact : http://www.tombo.co.jp &

- Jean Labre

*Juko Saito is also the creator of the pentatonic harmonicas Tombo (discovered in Tokyo by Pete Pedersen and me in 1995 !).
*A.J.H.F. All Japan Harmonica Federation
photos : Tombo - Jean Labre
Published May 22nd 2008