Asia Pacific Harmonica Festival 2008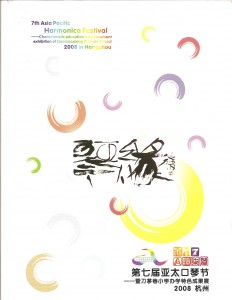 This event took place in the city of Hangzhou, China (1.932.600 inhabitants), near Shanghai, from the 1st to the 4th of November. An event succeeding to the preceeding festivals in Taipei, Kuala Lumpur, Seoul, Atsugi (Japan), Hong Kong and Taipei a second time.
This Asia Festival, organized every two years, is one of the most important events of our Harmonica World. I already wrote an article about this phenomenon in this website under the title : "World Championships and World Competition Story" (click on "Articles").
The festival organization was perfect, due to an efficient Festival committee supervised by miss Cui Xia.
For instance : the organization of the competition which included 1669 competitors (15 categories, orchestras included). This competition took place in a university in which people discovered a surprising museum which standing comparison with the Trossingen museum.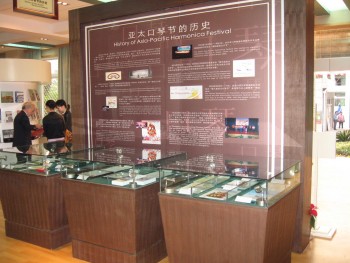 In the same place, people discovered the most important harmonica school of China, associated with the city of Shanghai.
My friend Jia-Yi was in charge of the artistic organization of the festival, including a service of permanent translation of all the events (meetings and concerts). He also took part several times to the show, giving us the opportunity to rediscover a great harmonica player.
It is used in Asia sharing all harmonica festivals with Pacific neighbouring countries. Apart from the organizing countries (China,Japan, Korea, Malaysia, Hong Kong, Singapore, Philippines), Australia, New Zealand, Hawaï and California (including Sung Hee "Victor" Yun, SPAH Chairman) were present in this festival... together with a few Europe representatives : Germany, Italy, Finland and France.(Photo : Jia-Yi He, Gerhard Müller and myself)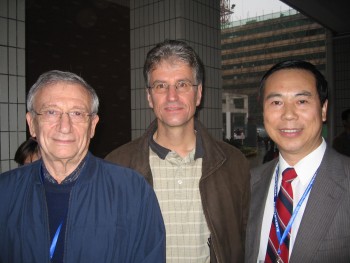 Three evening concerts took place in the"Hangzhou Theater". A beautiful Opera concert building. For the circumstance, TV cameras transmitted live all concerts on outside giant screens in the city and also in the university during the competition.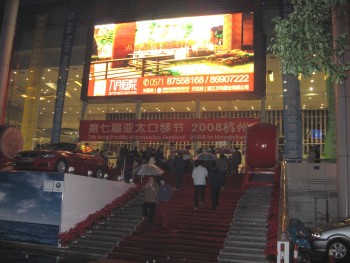 Three evenings including top concerts were so many opportunities to discover, or re discover great quality shows. For instance, the famous "Harmonica Orchestra of Hong Kong Association" (74 harmonica players, out of 80 musicians) directed by Johnny Kuann, a prestigious performance ! Equal to an evening concert in Paris Palais Garnier Opera !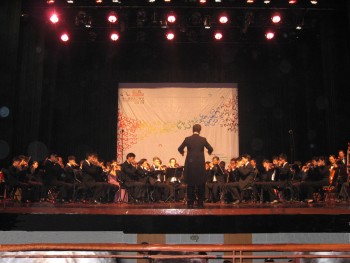 I've appreciated a lot of very good harmonica players and orchestras... among them the marvellous japanese "Kojo No Tsuki" played by the legendary tremolo player Kan Manaka. I was very happy to participate in this concert.
I've also enjoyed taking part in an improvisation meeting with my australian friend Tony Eyers.
The close ceremony had a warm and enthousiastic awards giving. The competition has reached an impressive technical level. As far as I am concerned, as adjudicator, I've lived a thrilling moment... with a headache as reward !
But I've shared intensive days with my planet harmonica friends...

The rendez-vous is already taken, the next 2010 Asia Harmonica Festival will take place in Singapore. Start from now saving up to go there... it's really worth it.

And don't miss the 2009 Trossingen rendez-vous next year !

A planet harmonica... we all have a dream somewhere.

Jean Labre

festival poster Zhou Wenqing, photos Jean Labre
Published November 29th 2008