Harmonica Therapy / Music for Life
Following my preceding article " Musique et Santé/ L'harmonica et le souffle ", concerning Harmonica Therapy in France, http://www.jeanlabre.com/article.php?id=86 , I approach today the so important question about the harmonica therapy out of my country.
In prelude, I have to pay tribute to Doctor Sung Hee "Victor" Yun who gave me a lot of positive information about this subject when I met him in the 2008 7th Pacific Asia Festival in Hangzhou (China).
He has been writing several interesting articles in the magazine " Harmonica Happenings " published by the SPAH (USA)*. An article published in this magazine (Nr 42 summer 2008) about Harmonica Therapy has particulary drawn my attention. It will be my guide for what is following (Translation in French with his kind permission).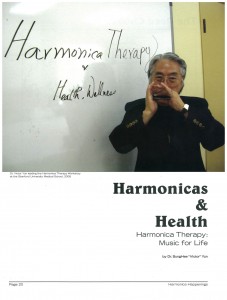 Dr. Sung Hee "Victor" Yun writes :
"The concepts presented in this article are based on consolidation of my existing body, of knowledge, wisdom, traditions, anecdotal testimonies and evidences not only from harmonica playing communities and general public but also from medical science communities. Working hypothesis regarding the physiology of harmonica playing and the theoritical implications for health benefits have been steadily on the rise in recent years. This article offers guiding principles for researching the supportive elements of harmonica, an instrument believed to be a source of life power and energy that harmonizes mind, body and soul. Thus harmonica therapy can be regarded as an integral part of the mainstream music therapy.

SCIENCE OF HARMONICA PLAYING : THEORY AND EXPERIMENTATION
Interest in the science of harmonica playing is a recent phenomenon. Besides the fun and joyful aspects of playing harmonica, there is the added value of providing an harmonica player with therapeutic and preventive health benefits.
When playing the harmonica, a number of body movements are involved. Playing engages multiple body parts and human organs : mouth, lips, tongue, cheeks, jaws, theeth, neck, eyes, ears, muscles, arms, hands, joints, bones, ribs, throat, lungs, heart, diaphragm, legs, feet, etc.
As many parts of the body are engaged, harmonica players can derive therapeutic and salubrious benefits from playing while enjoying music at the same time. Intense vibrations created by harmonica reeds get transmitted throughout body and mind and stimulate uplifting of player's inner energy.
The breathing required to play the harmonica can heighten and enhance elasticity, capacity and flexibility of the thin muscles of the diaphragm (approximately 4mm thickness). It in turn stimulates the exchange of oxygen and carbon dioxide in some 300 million air sacs, or alvéoli, in the lungs. The increased supply of fresh oxygen is transported throughout the body to various cells, tissues, organs and brain. The increased oxygen flow to the brain can help to rejuvenate the mind, while the increased oxygen supply throughout the body can enhance body functions, which in turn may provide a boost to immune system to prevent from disease.
Harmonica music may also have the power to uplift the spirit and provide psychosomatic benrfits. Some people believe that harmonica music has nostalgic effects. In some cases, harmonica playing may cause repressed memories to become released or subconscious thoughts to be tapped salubrious effects.
Certain psychiatrists and neuropathologists support the notion that playing the harmonica may produce psychosomatic benefits.

Harmonicas in general are made out of a combination of wood, plastic, nickel, brass and stainless metal. If emission of any chemical from the materials were to occur, or if accumulated bacteria existed inside and outside the harmonica, health and hygienic concerns may arise. Also, moisture of saliva from the mouth or the body into the harmonica may provide a harbor for bacterial growth so that cleanliness and hygienic care are must.

The multi-faced purposes in formulating and establishing a proposed non-profit, private, and voluntary organization called "Harmonica Therapy International" whith the prevailing concept and practice of established "Music Therapy" also help to increase SPAH membership,to continue to promote and popularize harmonica music in America and around the world with the aim of increasing the number of harmonica players and performers, to serve people in need for better health, to foster stability and sustainable social development and people happiness and most importantly to have fun and enjoy harmonica.

Harmonica therapy is a very recent and exciting phenomenon, which has been in existence for less than eight years. There are at least a handful hospitals and health care establishments, mostly in the East and mid-East regions, where harmonicas are being used to treat or cure certain breathing problems, including chronic obstructive pulmonary disease (COPD), asthma, chronic bronchitis, emphysema,and other breathing-related conditions.
Trained and licensed respiratory therapists and music therapists are among the key healthcare providers that are involved with these conditions. They are directly in the practice of harmonica therapy along side medical doctors and nurses. There are a growing number of hospitals and clinics where certain designated "harmonica therapists" are assigned to provide this therapy in addition to, or sometimes in lieu of, existing medical therapies such as inhalers peak flow meters or similar machines. For example, there is a large hospital in mountain View, California, called "El Camino General Hospital" where there is a regular bi-weekly harmonica therapy class held under the auspices of its Cardiovascular Pulmonary Rehabilitation and Wellness Center and supervised by a trained respiratory therapist. The official title of that person is "Harmonica Therapist".
The scope and range of the study areas vary : pain, management depression, anxiety, stress, cardiovascular disease, breathing difficulty, sleap apnea, Parkinson's disease, pulmonary fibrosis, smoking cessation, mental disorder, emotional or mood problems, loss of memory,and learning disabilities.

UNIQUE CHARACTERISTICS OF HARMONICAS FOR HEALTH BENEFITS :
In comparison with the other musical instruments, including wind instruments, harmonica stands out and shows certain comparative advantages in terms of its handiness, portability, affordability, acceptability, accessibility, universality, diversity, flexibility, variability, versatility, simplicity, tonality and musicality.

BE AN ACTIVE HEARER OF HARMONICA MUSIC, AND SO BE A PROACTIVE PLAYER ALL THE MORE !!

Dr.Sung Hee "Victor" Yun"

& More recently, the Dr. Sung Hee Yun took part in a "Harmonica Health Power" seminar combined with the panel discussion which was carried out during SPAH's 2008 Annual Convention in St. Louis, Missouri, which has drawn much attention to, and renewed support for, the health benefits of playing the harmonica. The speakers and panelists who attended were Tom Stryker, David Barett, Joe Filisko, Mary Jane Gormley, John Schaman,, Terry Ran,Victor Yun and representatives of the three harmonica manufacturers : Steve Baker (Hohner), Os Leguizamo ((Suzuki), Rupert Oysler (Seydel).
It's a real pleasure to observe that competitor manufacturers sat around a table for a noble cause discussion.
Following this SPAH Convention, Dr. Sung Hee wrote a very interesting article in the "Harmonica Happening" (Fall 2008, Vol.42 No.4), about this seminar.

May I add that Sung Hee "Victor" Yun is a sensitive diatonic harmonica player. Who, if not him, could obtain a so intense complicity with the reeds vibrations...

Jean Labre

& You will find several other articles concerning this subject, in the "Harmonica Happenings" magazines (Summer 2001 by Tulsa READ, etc.)
*"Harmonica Happenings" magazine, annual subsription will cost you 45 US $
Information & contact : http://www.spah.org & SPAH Inc. P.O. Box 865 TROY MI.48099-0865 USA
Published March 2nd 2010